My Blog about Military Service
---
Following is my blog about military service,
including a narrative of my feelings at the time.
Thanks for visiting.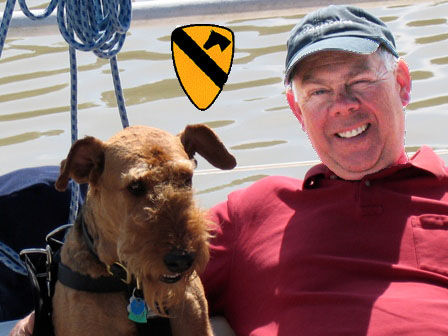 ---
JML Military Service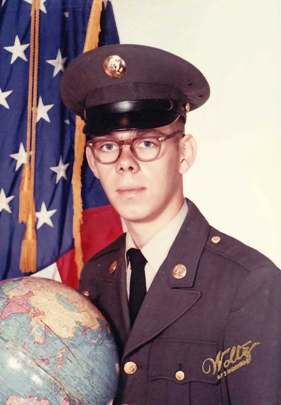 John Michael Logsdon (Mike)

Drafted for Military Service in August, 1968
(Draft Board for Shaker Heights, Ohio)

Army Picture taken during Basic Training
September, 1968
Picture taken at Fort Knox KY
---
Introduction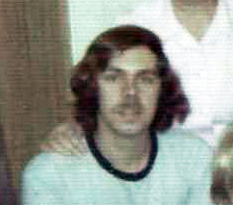 The Sixties
I've never regretted growing up in the 60's, -- the 60's revolution. We were introduced to new music, new trends, and a changed political landscape.
Up to this time we trusted our government leaders. I had learned from my earliest consciousness that every male has an obligation to serve his country, so that if called, we would serve in the military.
In our youth we watched as the returning veterans who preceded us -- those of the "greatest generation" -- were honored for their service. They knew that the battles they fought were necessary, and their families and friends knew it, too. But when we returned we were likely to encounter demonstrations and disrespect. The government wasn't there to help; the VA didn't understand or allow claims for PTSD or Agent Orange until years later, and only then when Vietnam veterans organized to bring these problems to light.
So what did we do? We didn't talk about our experiences. We saw a lot of awful things in Vietnam, but we kept the details to ourselves. If our nightmares were manageable, we were the owners. There usually wasn't anyone to listen. Even the local VFW chapters, still populated by WW2 veterans, shunned the Vietnam vets.
While in Vietnam we quickly learned that our military leaders had been trained in the late 1930's, in preparation for WW2. They were still learning about Jungle Warfare and a 360-degree war. What was the actual impact of the "domino theory"?
I always felt that if the domino theory was to be believed, then our entire country should have mobilized. While sitting in our bunkers defending our positions in Vietnam we had a lot of time to think. I remember how bizarre it was that my friends back in "The World" were living their free-wheeling lifestyle while so many of us were being shot at in this mis-managed war.
But we didn't have strong leadership in our government. We lacked a concise mission. Rather than permit the troops on the ground to run the war, President Lyndon Johnson was selecting bombing targets from his White House situation room.
The following section is a small glimpse into my world in 1969-70.
---
Duty Stations

August 68 - November 68: Fort Knox, Kentucky
November 68 - January 69: Fort Polk, Louisiana
January 69 - April 1, 1970: Vietnam

An Khe
Tay Ninh
LZ Grant
Phuoc Vinh
Quan Loi
Firebase Don
Song Be
Bien Hoa

---
I am proud to have served with the First Cavalry Division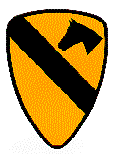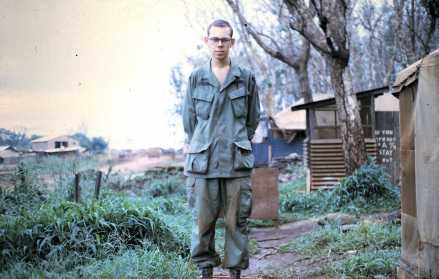 8 months In-country
Taken at Quan Loi on Aug 12, 1969
---
Early college years and starting a career
---
The years between that 5th grade announcement on the playground and my second year at Cuyahoga Community College didn't include one bit of discussion about Southeast Asia. My interests throughout that time of life included all things mechanical, dabbling in stage crew and sports announcing in high school, and a focus on industrial management in college. I was interested in the social studies classes that I was required to take, but there was no question that working with building facilities would be my life's work.
In my third year of school, now at John Carroll University, the imposition of the military draft started to rear its ugly head. The rumors of the local draft boards checking to make sure that we were carrying a full credit hour load became so intense that they became believable. Discussions about avoiding the draft were an easy ice-breaker at parties.
I learned that The New York Times was publishing a daily report of the hearings in Washington related to the Militarty Draft, so I subscribed. The legislation under consideration was to convert from the unfair system of drafting the oldest first, up to age 35, to a lottery based on one's birthday.
I decided that a lottery was more in my favor, especially since drafting by age was more likely to capture me. The first lottery was drawn in 1970. My number would have been "113". The highest taken that year was 195, so even if I had been able to postpone one year, I still would have been drafted.
Note this well: I wasn't objecting to the military draft or serving my country, as I had learned in 5th grade. My older brother Bill had answered the call by serving in the Air Force from 1962-1966. I'd just rather not have my lifestyle interrupted.
I took my chances with the draft. I was working full-time and I wasn't carrying enough college credit hours per semester. Although the change to a lottery system had not gone into effect, I was swept up in the draft. Here is the dreaded order to report:
---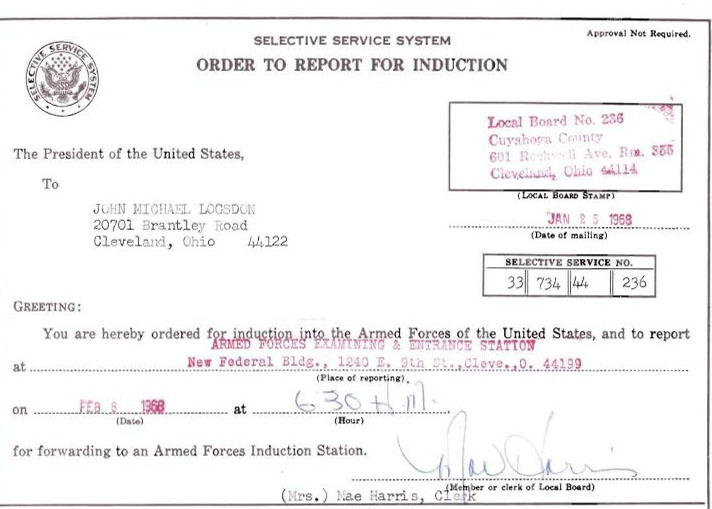 Note: I was eventually deferred from February until August so that I could complete the semester, but the ruling couldn't be reversed. They needed the bodies.
---
Duty station: Fort Knox, Kentucky
---
I arrived at Fort Knox, Kentucky in August, 1968, just before Labor Day. We arrived just in time to sit around with nothing to do over the holiday. I guess we learned pretty quickly how true the adage of "hurry up and wait" was going to be. Our training lasted until early November, 1968. During the entire training cycle there was always uncertainly of what our next assignment might be.
Part of the induction process included a battery of exams which would ostensibly identify an appropriate assignment for each recruit. During the exit interview I was given this advice by the reviewer: "Trainee, you have scored at the top in the mechanical aptitude section of the test. With your score, you'll never be assigned to 'Nam..." I couldn't decide how serious he was, but I arrived in Vietnam within three months of his prediction."
It was somewhat of an urban legend that being assigned to Fort Polk would be the worst possible fate, since infantry and Vietnam would be inevitable. We would not know until the final orders were issued. Then, about two weeks before the end of basic training I received orders to report to the Medical Facility where prescription eyeglasses were issued. I was surprised when they gave me a prescription for sunglasses that was stamped "EM ASG RVN". I had no idea what that meant but soon figured it out. "Enlisted man is assigned to Republic of Vietnam."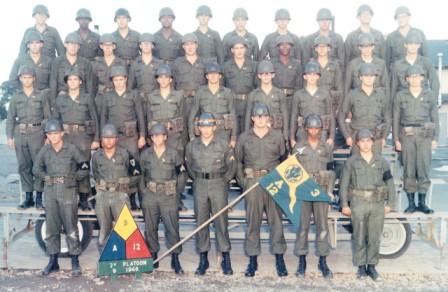 Basic Training Platoon
Taken at Fort Knox, September, 1968
None of these soldiers was KIA in Vietnam
---
Duty Station: Fort Polk, Louisiana
Company A, 1st Battalion, 3rd Training Brigade
---
Fort Polk was the least desirable training site for draftees. Based on my mechanical aptitude and engineering background, I had been counting on a better assignment, perhaps with the Combat Engineer battalions. There was still hope, I figured, since by this time I had also received training for driving 10-ton Army trucks. In the flight on the way to Fort Polk, I had unsealed my personnel records and placed my State of Ohio steam engineer's license on top, in plain view. Then, as we entered the Fort Polk base, we drove under a large arch which clearly announced "Tiger Land: Birthplace of Combat Infantrymen for Vietnam." This was quite a letdown. Fort Polk training was a miserable experience, and some even suggested that actually arriving in Vietnam was almost a relief.
There were many negatives about Fort Polk: a spinal meningitis scare, the freezing nights and blistering hot days and the swamps of the national forest, where we did a lot of training. But I have to relate my most memorable event:
My most memorable event: During a training exercise I was driving a 10-ton water tanker. An artillery simulator started a brush fire and the training Drill Instructor ordered me to pull up next to the fire so that he could spray water on the flames. When I engaged the pump it locked the transmission, and suddenly a change in wind direction caused the truck (and me) to be entirely surrounded by the fire. The DI yelled at me to "get the truck moving or you'll own it." All ended well, but whenever I see those Army trucks I am reminded of my days at Fort Polk.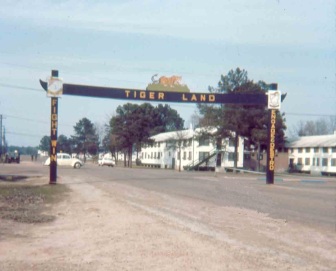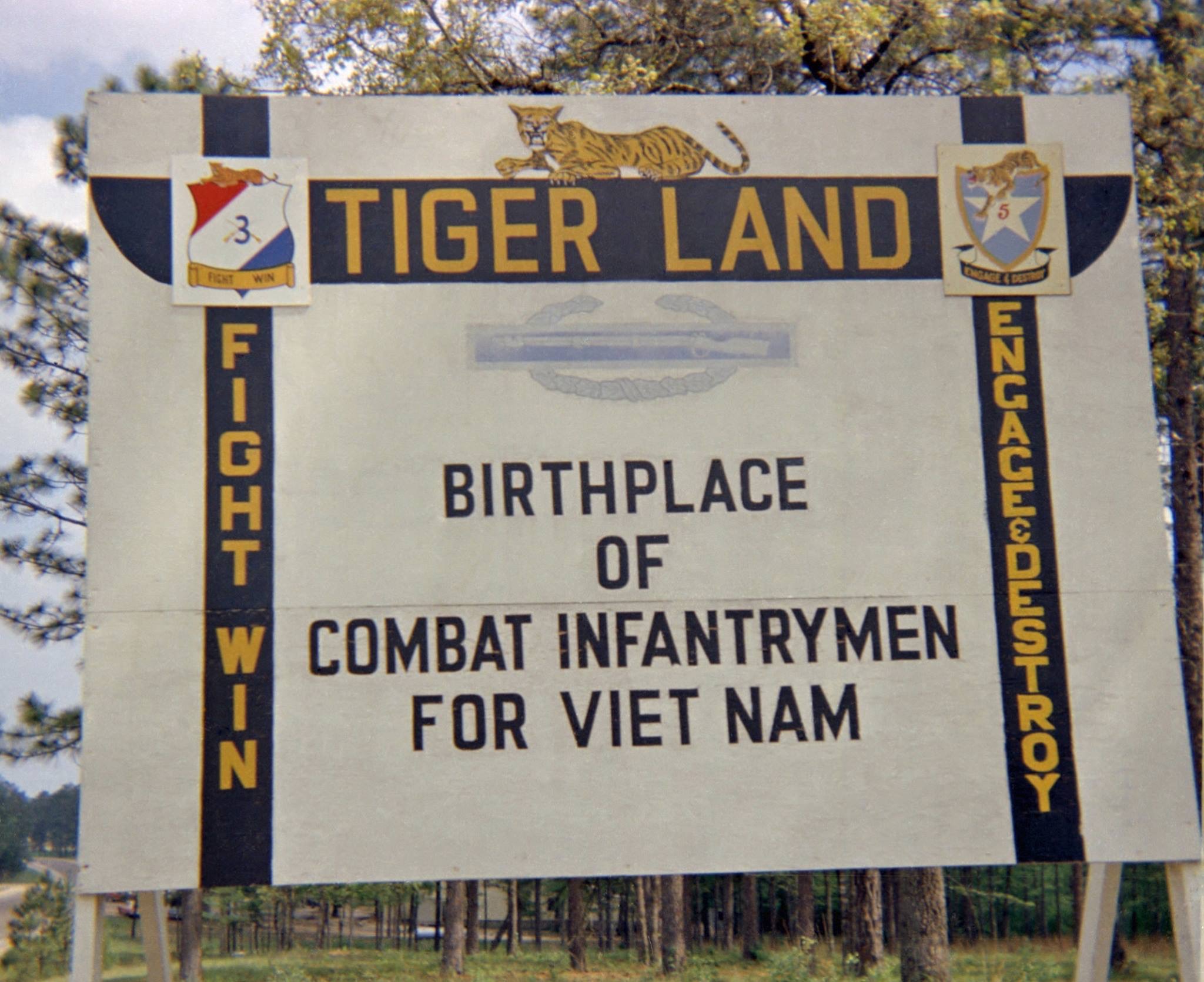 Remember the Tigerland sign at Fort Polk
"Birthplace of Combat Infantrymen for Vietnam"
Picture provided by
Robert "Bob" Hermann - 1968-1969 - 101st Airborne Division - RVN
---
Duty station: An Khe, Vietnam
---
Camp Radcliffe
As a new guy in Vietnam, I was in total amazement of the complexity of the military machine. Being assigned to The First Cavalry Division meant lots of helicopters, total air mobility, and a different sort of training. Our first assignment was to Camp Radcliffe for a 3-day school about how the First Cav operates in the field. We learned how to rappel from helicopters, what to look for in the field, and the precise use of live hand grenades.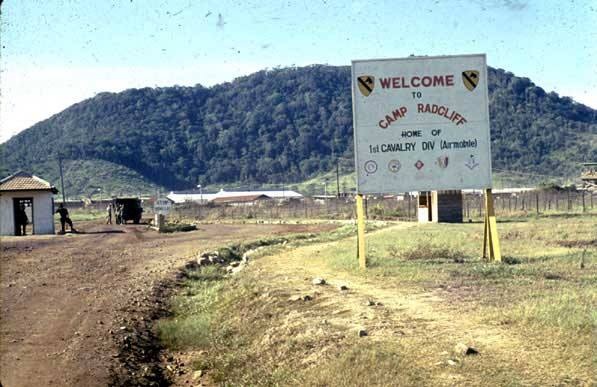 Welcoming sign as we approached Camp Radcliffe at An Khe
This view is provided by a Facebook site
---
I was then assigned to a front line unit, Company D, 2/8 Cavalry. The headquarters base of Camp Radcliffe in An Khe was located in the Northern part of the South Vietnam (I Corps), but the First Cav was in the process of moving South to III Corps, closer to Saigon and adjacent the border of Cambodia. At the conclusion of in-country training we boarded helicopters and moved south. I do not have pictures from this area.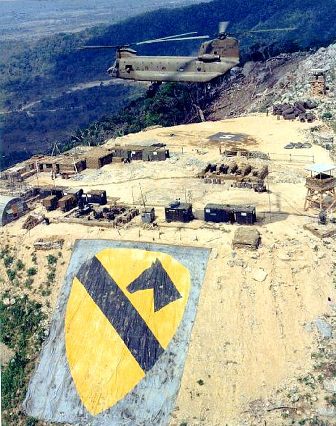 First Cav Patch painted on side of the mountain
This is the first image you see when approaching
Camp Radcliffe from the air
Many images of this view are found on the Internet
---
Duty station: Tay Ninh
---
Fortunately, my time with Company D coincided with a lull in the fighting in South Vietnam. We eventually rotated onto the rear-support base at Tay Ninh. After encouragement from Mike Ginn, an Army buddy, I made contact with the head of the personnel section when he happened to be next to me in the chow line. SFC Colman invited me over for an interview and I joined S-1 soon thereafter. S-1 was a good match for my skill set. Although Tay Ninh was a rear support base, it was a favorite target for incoming rockets. We saw our share of "incoming" and suffered our losses.
I considered the assignment to S-1 an absolute life-saver. I had taken a typing course as a high school summer class, where Mr. Wile gave prophetic advice to the boys in the class: "take this typing class seriously...it could save your life!"
March 7-11, 1969 at LZ Grant: It was while I was at this support base that our division suffered heavy attacks on LZ Grant, one of our forward bases. The enemy activity in the area was intense, and on March 8 LZ Grant repulsed the heaviest attack to date. On this night, an enemy rocket drilled down into our below-ground command center, killing our top commanders. We were all devastated.
We stayed at Tay Ninh until June 14, when our battalion moved to the Division Headquarters at Phuoc Vinh for three weeks of in-country stand-down. I was assigned to LZ Grant until our battalion moved to Quan Loi.
---
Click here to read details about enemy attacks on LZ Grant
View from Slick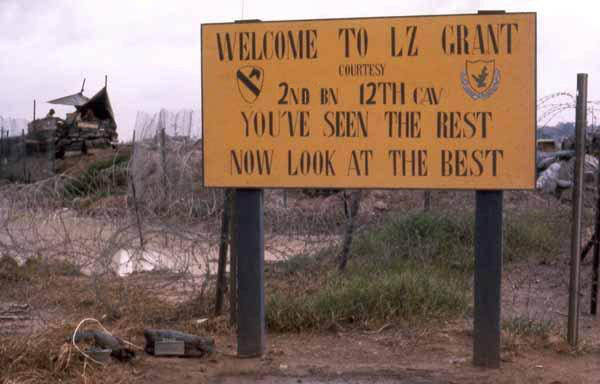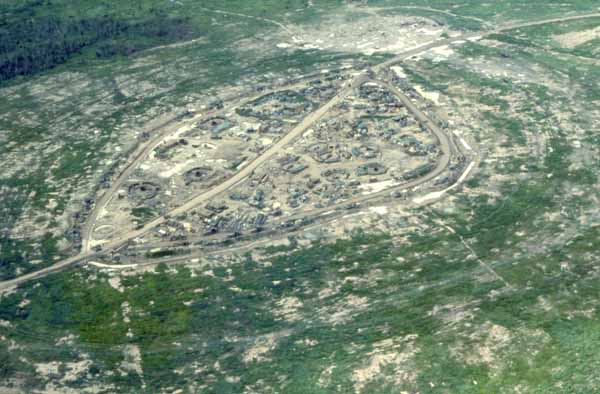 Aerial View of LZ Grant

Picture provided by Terry Moon*"
*See link below
---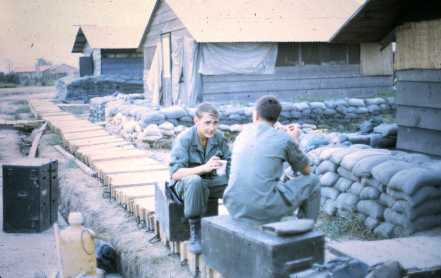 Gary Frisoli & Joe Talian
Moving from Tay Ninh to Phuoc Vinh
Picture taken at Tay Ninh (1969)
---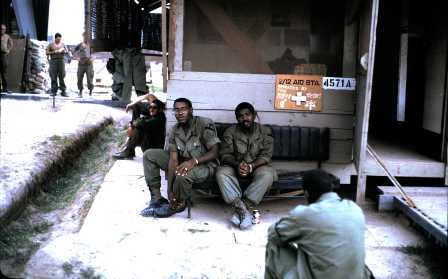 Bob Wilson & Jazz Blue Mercer
Picture taken at Tay Ninh (1969)
---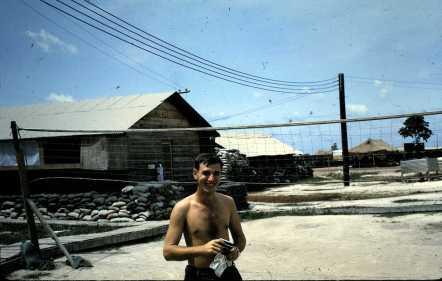 Andy Valpatic (Indiana)
Picture taken at Tay Ninh (1969)
---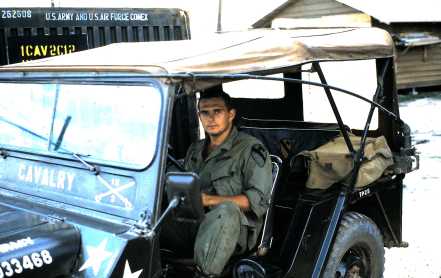 Chuck Morgan
Picture taken at Tay Ninh (1969)
---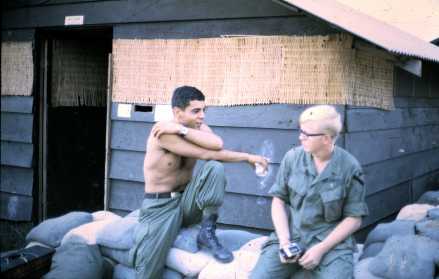 Dan Solario and Rick Ekstrom
Picture taken at Tay Ninh (1969)
---
Duty station: Phuoc Vinh
---
Our introduction to "Palace Guard" at Division Headquarters came on the first day as we walked from the choppers to our quarters. "Hey trooper," bellowed our first sergeant, "get those boots shined!" Our previous 5 months had been filled with incoming rockets and loss of our friends. Now we were being told to shine our boots. Our reaction to these sorts of strap demands was predictable. I volunteered for minesweep duty every morning that I didn't have guard duty and stayed away from the brass whenever I didn't have urgent work to do. It was at this time that I started flying on almost daily missions to our forward bases. I even volunteered for plenty of latrine duty assignments. (Nobody bothered you when you were burning the tailings.)
2nd/12th Newsletter: In researching my collection of letters I discovered that I sent home a newsletter dated July 3, 1969. The "news" covers every company in the battalion, including cautions about malaria and marijuana. It gives us a sense of activities in the battalion at the time. In my note home I told my parents that I edited and distributed the newsletter. This may be the only one in existence for the 2nd/12th.
Click here to read the 2nd/12th Newsletter from July 3, 1969
(this may have been the first and last newsletter)
We all worked hard. I somehow became the go-to person for writing letters to the next of kin of our troopers who were killed in action. We were greatly affected by each KIA and worked hard to get the details correct. I would analyze the battle report, compose a letter, take it out (by chopper) to the Colonel for additions and corrections, and then manually type the final letter. In times of heavy casualties I would stay up all night to get the letters perfectly typed. We didn't have word processors, so if I made a mistake, I would start over. Every letter was accurate and signed by LTC Boon.
When our Battalion S-3, Major Robert "Bill" O'Keefe, was killed when his helicopter was shot down (June 19, 1969), I was in a quandry of whether I should still compose a letter, since the casualty was so high in rank. Nonetheless, I followed procedures, did the research, wrote a draft and sent it out to Lieutenant Colonel Boon for additions and signature. The following day I was told to catch the next command and control chopper to LZ Grant and report to LTC Boon. I thought I was in trouble for writing the letter for him, but instead, he thanked me. I was eventually assigned forward to LZ Grant to be more available to LTC Boon. This forward assignment lasted until we moved to Tay Ninh.
I spent a lot of time in the air. The priority level for me finding room on a chopper generally was low, compared to getting ammo, food and supplies to the troops on the front lines. I would often squeeze in among the supplies. By spending so much time in the air, both to deliver the letters for signature by the colonel, or delivering supplies and precious ammo to troops in battle on the ground, we knew were always a shooting target for the enemy. And we did draw fire in the heavier battle zones. We were proving the concept of air mobility, and we received a citation and ribbon for this more than 50 years later.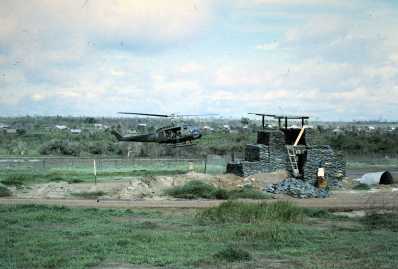 Base perimeter green line
Picture taken at Phuoc Vinh (1969)
---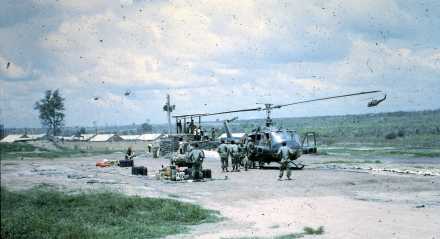 Log mission out of Phuoc Vinh
I rode these missions every day for about 3 months
Picture taken at Phuoc Vinh (1969)
---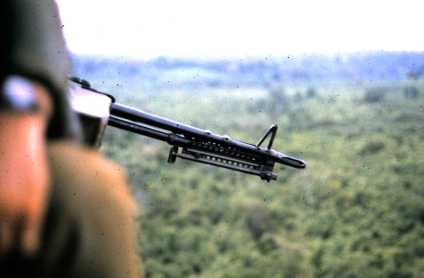 I always took my cue from the Door Gunner
When the M60 was rested I could relax
Picture taken out of Phuoc Vinh (1969)
---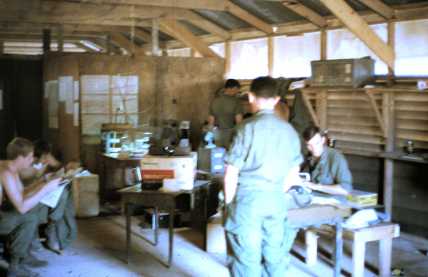 S-1 at Phuoc Vinh
Picture taken at Phuoc Vinh (1969)
---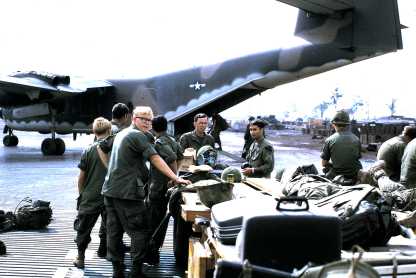 Moving from Phuoc Vinh to Quan Loi
Rick Ekstrom, Dean Ross, Kimo Kaanahe
Picture taken at Phuoc Vinh (1969)
---
Duty station: Quan Loi
---
Quan Loi was a large rear-echelon fire support base built among the perfectly aligned trees of an old French rubber plantation. There were very few permanent buildings. We lived and worked in Army tents stretched over wood frames.
I was intrigued with the French influence of the area. Remembering that this country was named French Indochina in our 5th grade social studies classes, there were still plenty of French nationals here. The original buildings were generally white stucco masonry structures with red tile roofs.
It was rumored that the landing strip we used was actually a French country club and golf course that had been bulldozed for the runway. I have a good picture of the landing strip that I will eventually post here.
I flew in and out of Quan Loi quite a bit. One day, while walking past the troops waiting for flights, I heard a familiar voice calling "Hey, Mike." It was Terry Dautel, a University School classmate whom I had not seen in years. In contrast to my uniform of fatigues, baseball cap and M45 pistol, Terry was wearing full combat gear, gas mask, helmet, and M16. I had to ask: "Terry, you're geared up to the hilt. What is your MOS?" He replied "I'm a Chaplain's assistant, and I'm here to meet our Chaplain. I never leave the base."
---
I had seen action on the green line of LZ Grant, but it was at Quan Loi, on August 12, 1969, that I experienced my most significant ground attack by the NVA.
---
In August 2018, I sent this email to family and friends:
Sunday marks the anniversary of the most terrifying event of my life. You and I have discussed my activities in Vietnam in a general way, but I have never shared this particular experience:
On the night of August 12, 1969 our base at Quan Loi, Vietnam was strategically surrounded and attacked by a sophisticated battalion of the North Vietnam Army. We were temporarily overrun.
My actions that night were referenced in a book by Steve Koppenhoefer, an officer whose company suffered serious losses, including a soldier who received the Medal of Honor. I had volunteered to leave our company's staging area to pick up an urgent message from the headquarters bunker. The book quotes me as saying "This is the darkest night of the month; we can't even see our footsteps. If we're going to be attacked, tonight is the night." Then later, my radio broadcast to our companies: "...all units be advised...heavy enemy movement has been detected...attack is imminent."
Within minutes the first round of gunfire was so close that it told us the base perimeter had been breached. Rick Ekstrom and I established a second defensive position in a drainage ditch where we spent the remainder of that moonless night, totally isolated from our company. We later learned from blood trails on the ground that the enemy had encircled our position but chose not to engage us so as to not reveal their presence. Those circumstances, especially our isolation that night, still haunt me.
This is a one-time email of this nature. I promise not to send more. But on this quiet day of reflection for me, almost 50 years later, I thank you for your understanding and support. Mike Logsdon
---
End of message
---
September 12, 1969
Picture taken at Quan Loi
---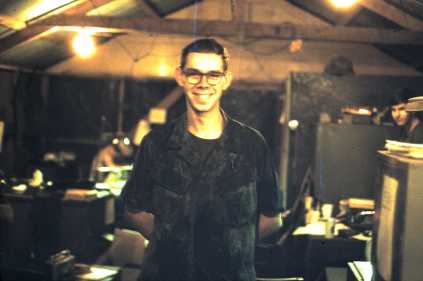 Monsoon season
Picture taken at Quan Loi (1969)
---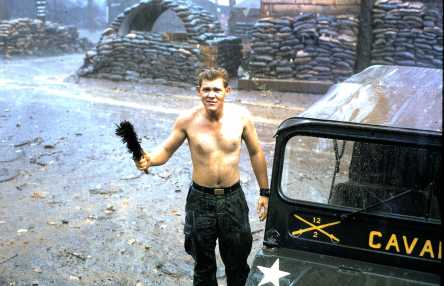 Jim Carmen washing Jeep in the rain
Picture taken at Quan Loi (1969)
---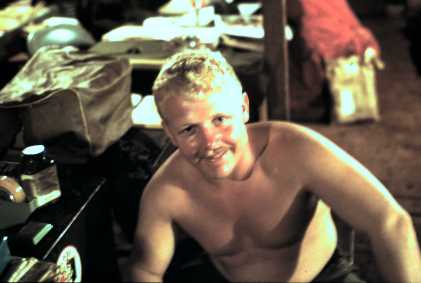 Shorty Reeves
Picture taken at Quan Loi (1969)
---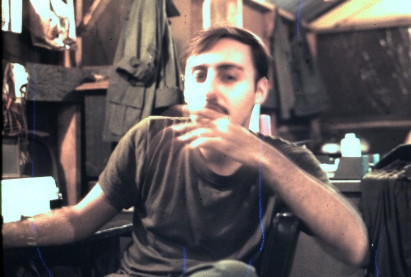 George Partaledis [Massachusetts]
Picture taken at Quan Loi (1969)
---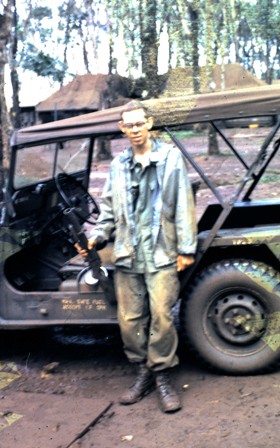 After overnight guard duty at Quan Loi
We stood green line guard every 2nd night
I'm holding a M-79 grenade launcher (my favorite guard weapon)
Picture taken at Quan Loi (1969)
---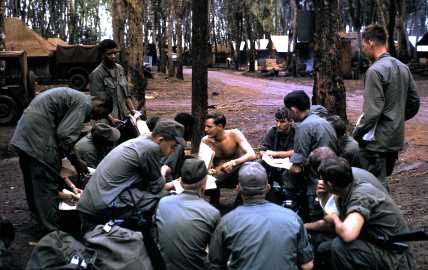 Sonny Larrimore welcoming troop replacements
Picture taken at Quan Loi (1969)
---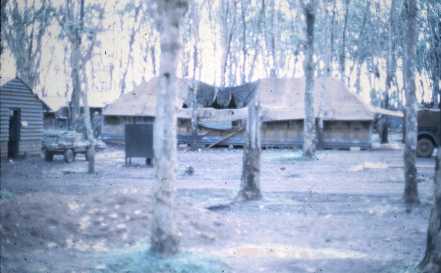 "Incoming" - Always on our mind Day and Night
Picture taken at Quan Loi (1969)
---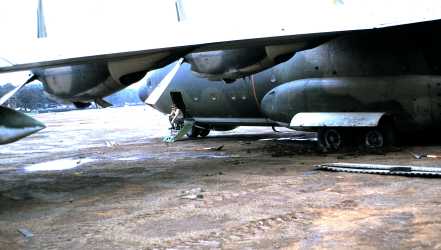 C-130 Cargo plane stuck in the mud
Picture taken at Quan Loi (1969)
---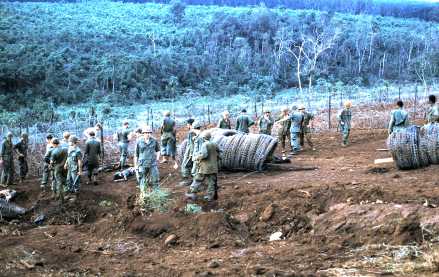 Green Line after overnight sapper attack
47 NVA KIA inside the green line at daybreak
Picture taken at Quan Loi (August 12, 1969)
---
B-40 rocket damage to barracks
Picture taken at Quan Loi (August 12, 1969)
---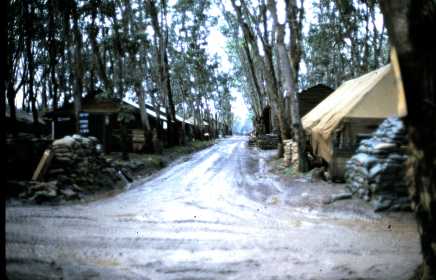 Basecamp road through the rubber trees
Picture taken at Quan Loi (1969)
---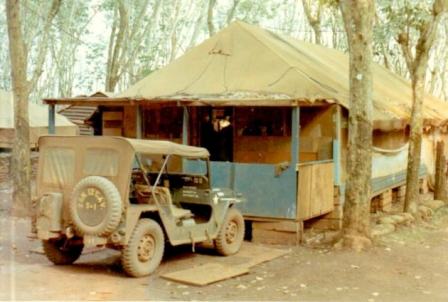 2nd/12th Battalion S-1 at Quan Loi
This was our base of operations for 4 months
Picture by TCB (1969)
---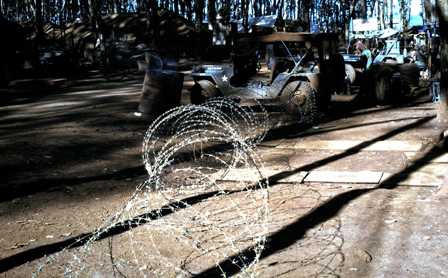 Barbed wire we placed each night
to slow down sapper attacks
Picture taken at Quan Loi (1969)
---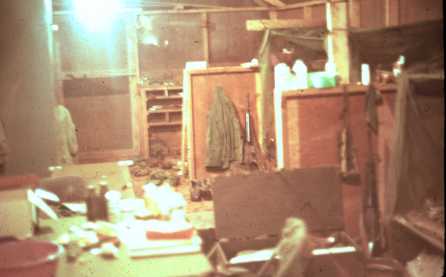 Quan Loi sleeping quarters - nets & M-16s
Picture taken at Quan Loi (1969)
---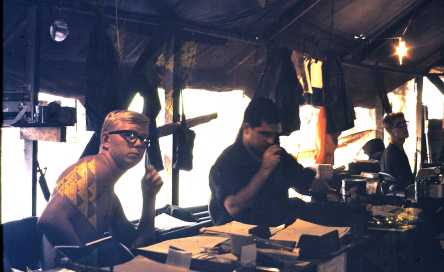 Rick Ekstrom and CPT O'Neill
Picture taken at Quan Loi (1969)
---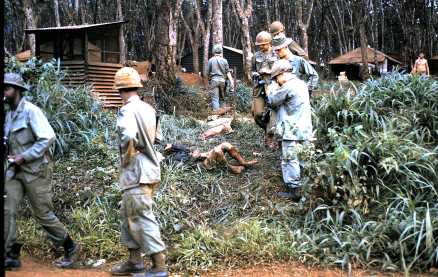 Sappers after night attack
Picture taken at Quan Loi (August 12, 1969)
---
Duty station: LZ Don
---
Click here to read about a recurring flashback
from an experience at LZ Don
In September 1969 the First Cav began construction of LZ Don. After the green line perimeter had been cleared we moved the S-1 shop out to LZ Don.
This was the first time that many of the clerks had seen anything resembling field conditions. For the first few days we cleared the tall weeds and began building our sleeping positions. We used sandbags and corrugated sewer halfs for sleeping positions. The orders were that everyone had to be sleeping behind sandbags by the 2nd night.
We used a large tent for the S-1 "shop." We set up our typewriters on desks made out of ammo boxes. We opened up the tent flaps for light. We were still adament about keeping the paperwork flowing. The letters home, the personnel records, the officer rating reports, and especially the awards and decorations all needed to get done.
GUARD DUTY: This forward base brought a new experience for the staff of S-1: take total responsibility for staffing a green line bunker. (On the larger bases we were assigned guard duty about one a week.) Now that we were on an LZ the S-1 shop had to supply 5 guys for the bunker each night. Rick and I traded off responsibility for sergeant-of-the-guard for our bunker, and 4 clerks were duty-rostered to fill out the guard each night.
Being in an active combat zone, we all thought we were living on borrowed time. Nonetheless, it was at this point in my tour that I started to plan my life after Vietnam. I wanted to take advantage of the opportunity for an early release.
Because there were so many troops returning from Vietnam with just a few months left to serve, the military initiated a policy that if you have less than 150 days remaining in your Army career when you return from overseas, you will be immediately released from active duty.
I had a very good job waiting. If I extended in 'Nam I could be home on April 1, 1970, rather than August 28. I extended 65 days, but I was convinced that even though the Bien Hoa base was much safer, I really was on borrowed time.
I was able to make a "deal" to take the morning report clerk position at the enlisted records group at Bien Hoa (near Saigon). I departed S-1 (on LZ Don) in early November, went to Sydney, Australia on R&R, and then returned to Bien Hoa to fill the position.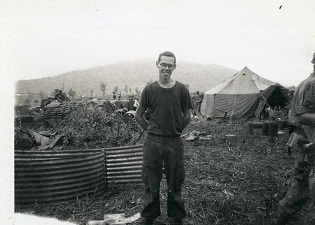 We built LZ Don in September 1969"

---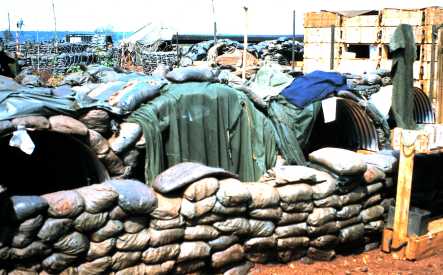 Our sleeping position was called a "shelter half"
No sleeping until the sandbag walls were complete
Picture taken at LZ Don (1969)
---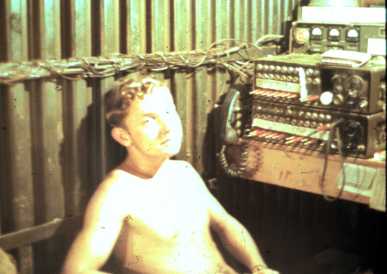 Randy Nazzarie
Picture taken in TOC bunker at LZ Don (1969)
---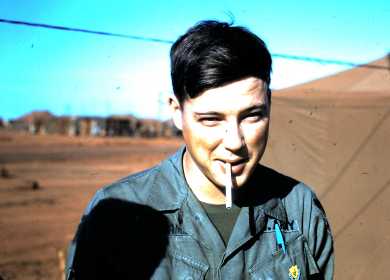 Battalion Courier - Ken Williams
Thanks to Michael Dow for help with ID
Picture taken at LZ Don (1969)
---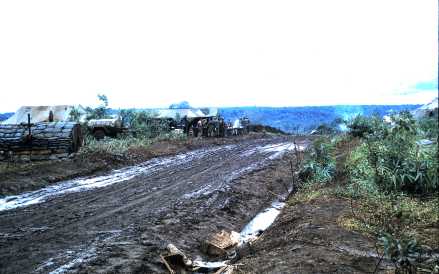 Mud road at LZ Don
Picture taken 1969

This picture brings back strong memories. I can remember standing
in the chow line on a dry day when a chopper landed.
There was dust everywhere. It was our only hot meal for 3 days,
and we could see the outline of our food in the dust on our plates.
I've never worried about dirt at picnics ever since.
---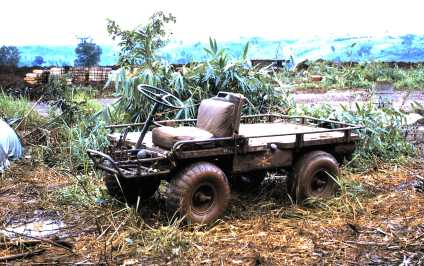 "Mule": a vehicle for loading supplies into choppers
Picture taken at LZ Don (1969)
---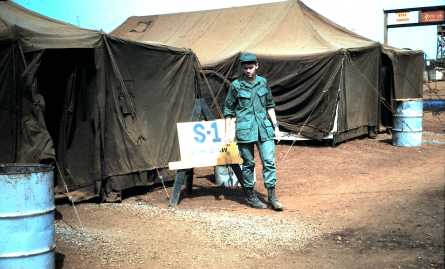 Battalion Courier Don Muskopf
Picture taken at Song Be (1969)
---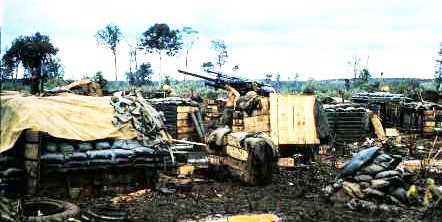 Artillery behind our shelter half
It's no wonder that we have hearing problems
Picture taken at LZ Don (1969)
---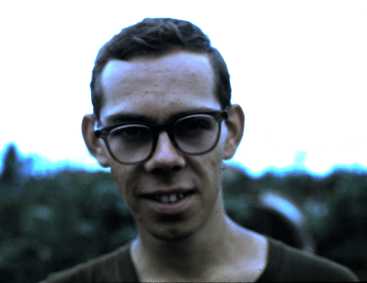 Mike Logsdon
Picture taken at LZ Don (1969)
---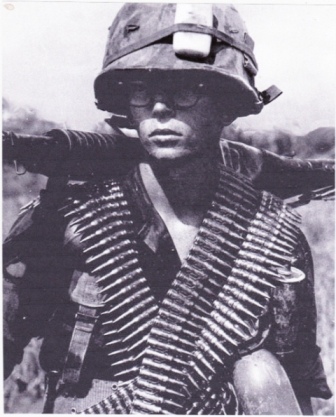 ---
Duty station: Song Be
---
I have added picures in support of the 8th MOB website. Please let me know if I have mis-identified any of these images.
By the time the S-1 staff set up quarters at Song Be I had already moved from LZ Don to Bien Hoa. These pictures are a result of my visit at Christmas. I traveled to Song Be from Bien Hoa with Don Muskopf so that I could spend Christmas with my long-term buddies.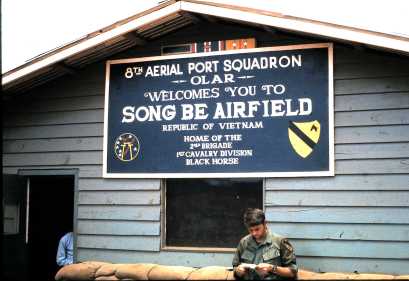 Don Muskopf waiting at Airstrip HQ
Picture taken at Song Be (1969)
---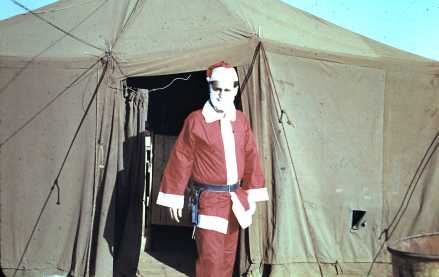 Mike Ginn as Santa with his .45
Picture taken at Song Be (1969)
---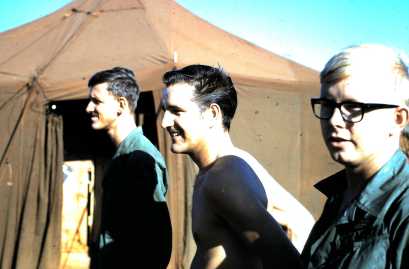 Bob Magruder, Sonny Larrimore, Rick Ekstrom
Picture taken at Song Be (1969)
---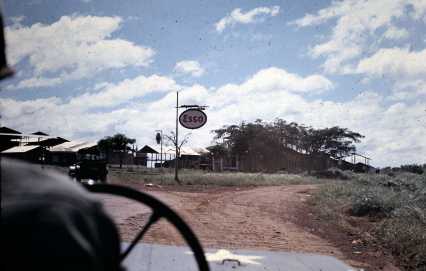 Note the French influence
Picture taken in the Song Be region (1969)
---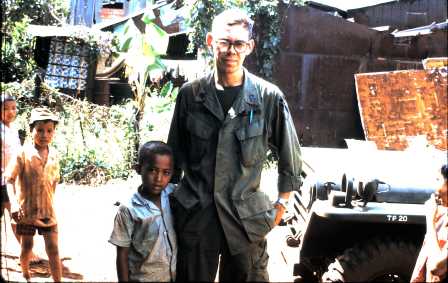 Laundry detail
Picture taken in the Song Be region (1969)
---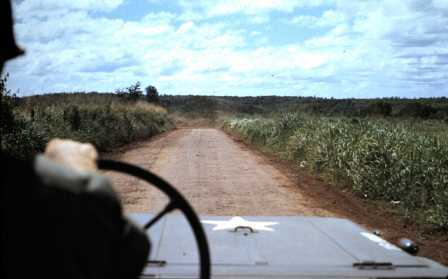 We took a risk driving through this country section
Picture taken in the Song Be region (1969)
---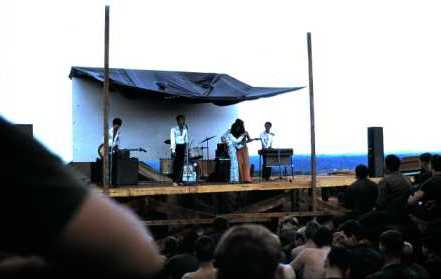 Band playing for us on Christmas Day
Picture taken at Song Be (1969)
---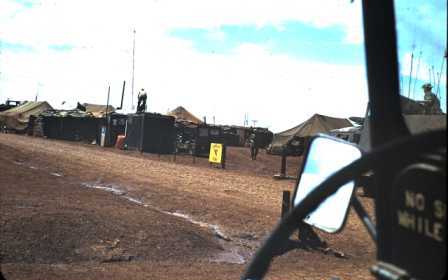 The First Cav section at Song Be FSB
Picture taken at Song Be (1969)
---
Local province chief giving speech
Christmas Day 1969
Picture taken at Song Be (1969)
---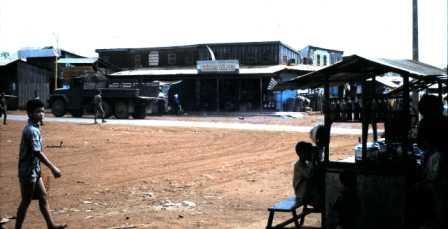 Local village near Song Be
Picture taken in the Song Be region (1969)
---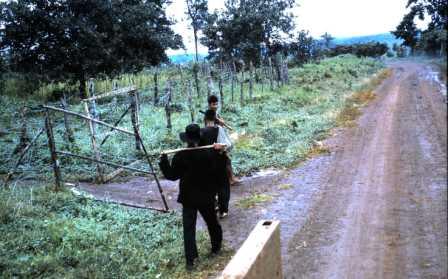 Local Montagnards along the road
Picture taken in the Song Be region (1969)
---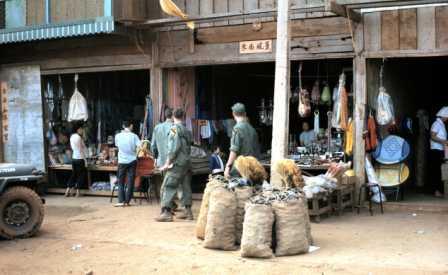 We supported the local village with our US dollars
Picture taken in the Song Be region (1969)
---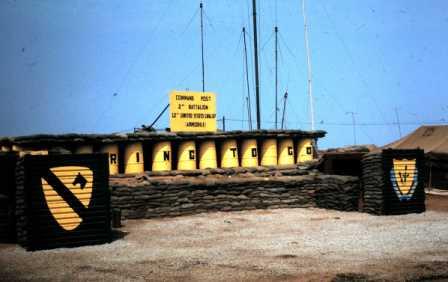 First Cav 2nd Battalion HQ
Picture taken at Song Be (1969)
---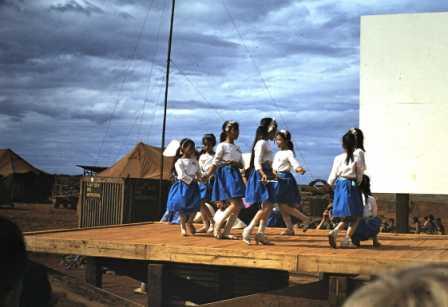 Local school performing on Christmas Day 1969
Picture taken at Song Be (1969)
---
Duty station: Bien Hoa, Vietnam
---
I returned from R&R in Sydney, Australia and settled into my new position in Bien Hoa. But conditions in Bien Hoa were decidedly different from my lifestyle out forward. We were required to turn in our M-16s, had to wear clean uniforms every day, and we had specific work hours. Actually, the new job was incredibly boring. I was homesick for the action out at the firebase. I had built a strong friendship base there and even though it was a lot more dangerous, I really missed it.
I wrote a story for the 12th Cav website about returning to LZ Don to be with my old buddies for Christmas. These final 65 days were going by very slowly. I discovered a quirk in the rules which state that if you are overseas more than 12 months, you may take a 7-day leave. I immediately applied for a 5-day pass to Tokyo, Japan, and it was granted. I always thought there was a huge advantage to handling your own paperwork.

Click here to read my Christmas story
I departed Vietnam on March 31, 1970, stopped in Denver to visit Rick Ekstrom and his wife at Ft. Carson, and started my full-time job at University School on April 4th. Because we were opening a new school building, I didn't take any sort of break in routine until the following summer.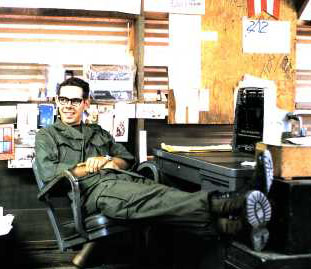 My last 65 days
Tough assignment: Rear echelon Morning Report clerk
Picture taken at Bien Hoa (Christmas, 1969)
---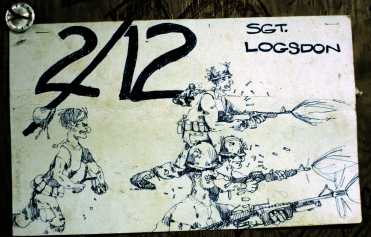 Locator sign above my desk in Bien Hoa
Picture taken at Bien Hoa (1970)
---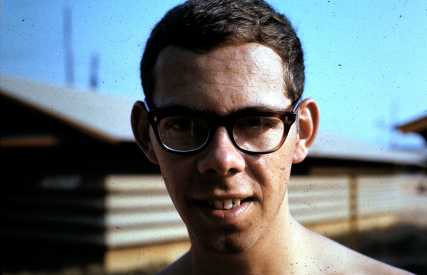 Mike Logsdon with 10 days to go
Picture taken at Bien Hoa (March, 1970)
---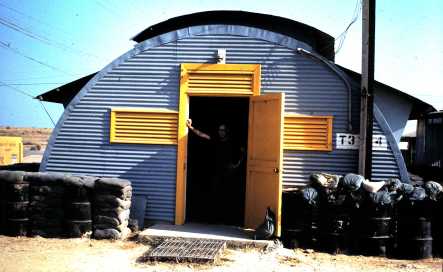 Administrative building for 15th Admin Company
Picture taken at Bien Hoa (1969)
---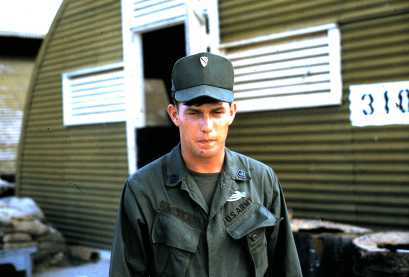 Rick Shuey
Picture taken at Bien Hoa (1970)
---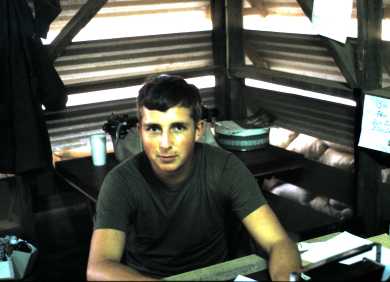 Charles Renfro
Picture taken at Bien Hoa (1970)
---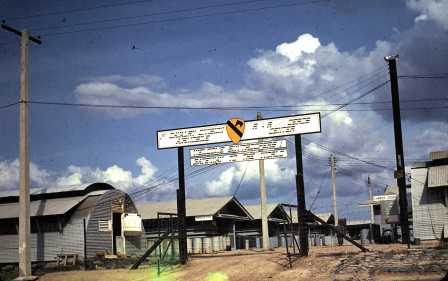 Gateway to the World
Picture taken at Bien Hoa (March, 1970)
---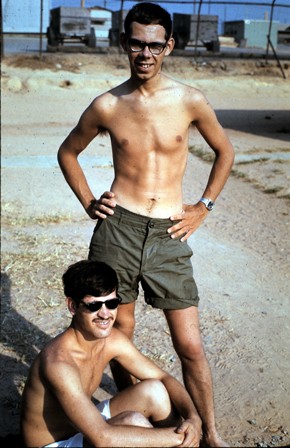 Mike Logsdon (standing)
Bien Hoa sun - Less than 10 days to go in-country
Picture taken at Bien Hoa (March, 1970)

After 40 years I wish I would still weigh 140 pounds
---
Update!
The Agent Orange Registry
In the spring of 2014 I received a letter from the VA encouraging me to participate in the National Agent Orange Registry. The letter appeared to be a general message to those who served during the Vietnam era, and while I understood that I qualified, I wasn't very interested in re-hashing old news. But after a presentation at the First Cavalry Division reunion in Chicago in June I knew that I needed to step up to the plate. The Cleveland interviews morphed into a general physical, including x-rays and detailed questions about my specific in-country area of operations. I was asked to identify specific maps of field support bases and forward LZs (landing zones).
My experiences with the First Cavalry put me in every defined category. I served in a line company in the field as well as on support bases, both forward and in the rear (although never very far from incoming enemy rockets). I flew on many combat missions as well as walking flank for the engineers doing mine-sweep missions on the village roads. My most dangerous assignment was on LZ Grant, almost on the Cambodian Border. It was by bad luck that I served briefly at Phuoc Vinh, the Headquarters of the First Cav. Why was that so unlucky? The greatest number of gallons of Agent Orange herbicide dumped anywhere in-country were sprayed around this base. I have always enjoyed taking pictures of my experiences, so my pictures are proof of the barren landscape.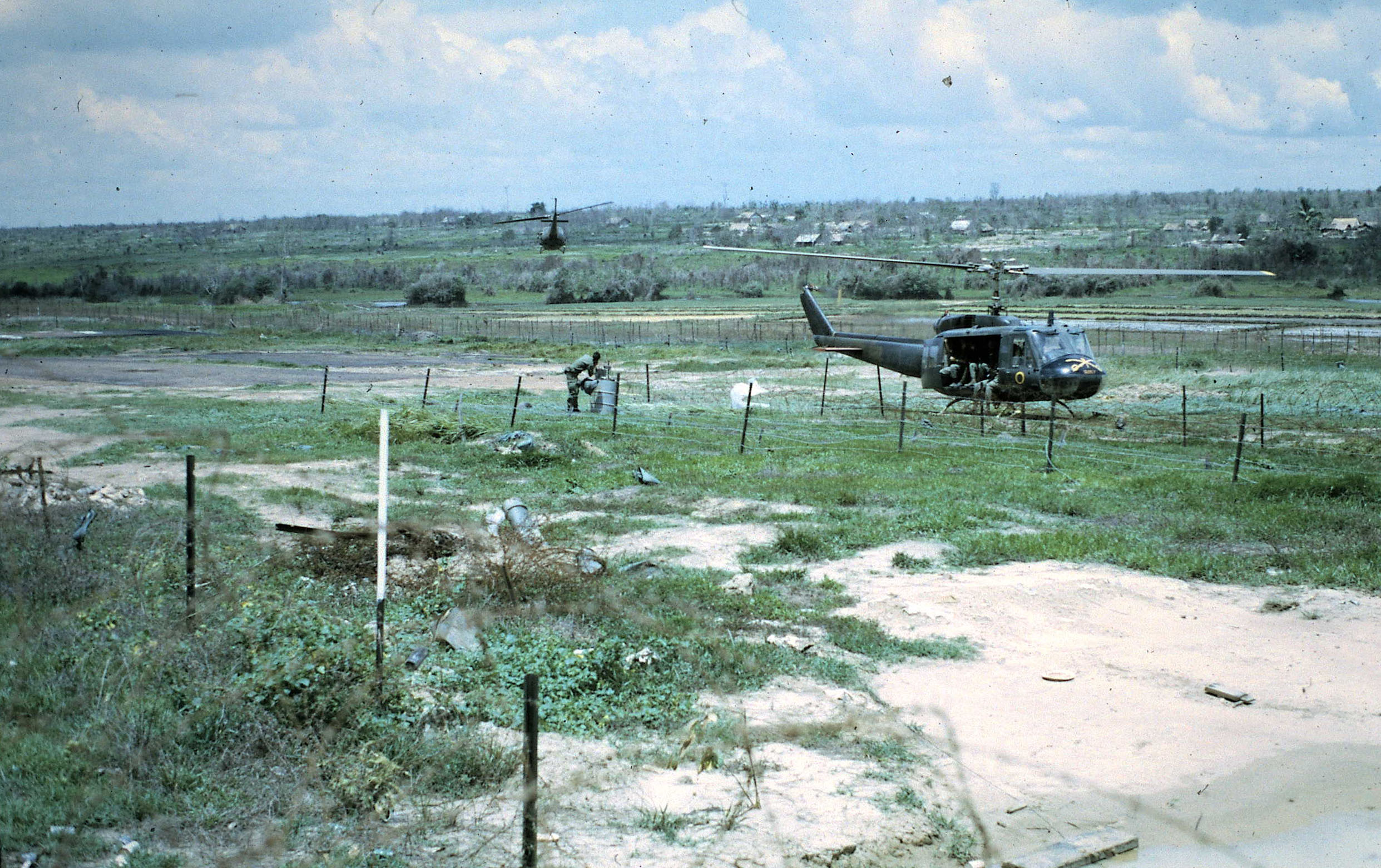 Phouc Vinh base perimeter defoliated by Agent Orange
These duty assignments earned the award of the "Air Medal" for participation in more than 30 flights involving combat assault missions. The missions, along with many nights on front-line guard duty in the defoliated perimeters of our LZs qualifies me for the Veterans Administration's classification of "boots on the ground."
I don't want to proceed before I compliment the Cleveland Stokes Veterans Administration Medical Center (VAMC) on their high quality of service. For all sorts of reasons, especially the renown Cleveland medical community, the Cleveland VA is at the top. I think Northeast Ohio is fortunate to have such good service.
As a "Christmas present" in December 2016, the VA recommended additional tests, this time focusing on my prostate. These exams resulted in a diagnosis of Gleason level-8 prostate cancer.
In June, 2017 I began an 8-week "radiation therapy" program. With the VA is directly across the street from my employer, The Cleveland Botanical Garden, I simply walked over to arrive for the very first appointment. I was back at the Garden before most of the staff arrived for work. I would be remiss if I didn't give credit to my colleague, Mark Hoover, the head gardener, for keeping me positive during this time.
The effect of radiation on our organs is cumulative. It took at least a month to shake the effects of the radiation. My colleagues politely tolerated my disposition. But truth be told, at a National Airedale hunting/working event in September, almost two months after the end of the radiation treatment, I scored my worst performance points ever for handling my dogs in competition. Could the radiation still be affecting my demeanor? Absolutely!
In September, 2020, the good readings began to be less favorable. My medications were changed and testing regimen increased. At this writing I'm tolerating the changes and staying in the safety zone. I'll write about the new treatment approach in an upcoming segment.
November, 2021: I have been tolerating the new drug regimen and certainly understand the consequences of getting off-track. I experience the normal side-effects of dizziness hot-flashes. I don't look forward to the infusion procedure every six months.


11/13/21 JML


---
Tim Campbell, U.S. Marine Corps
My Adopted Grandson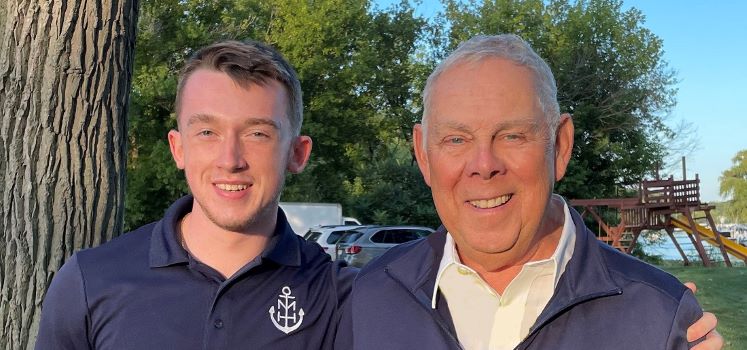 Tim Campbell and Mike Logsdon
August, 2022
Over the summer 2022 I was approached by Tim Campbell, a high school graduate who was considering military service. For the last year he has been going to the gym almost daily to prepare for service in the Marine Corps. Through our many chats Tim soon learned how supportive I would be of his decision to join Corps, as well as understanding how proud I am of serving our country with The First Cavalry Division in Vietnam.
I think I was more shaken up by Tim's departure in September than he was, but through many letters while he was at boot camp at Parris Island we managed to stay in touch. Tim completed the Marine Corps "Crucible", and I am proud to say that we have become strongly bonded brothers.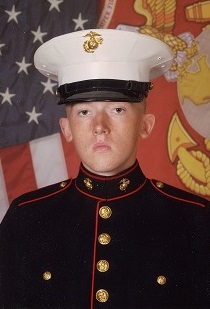 ..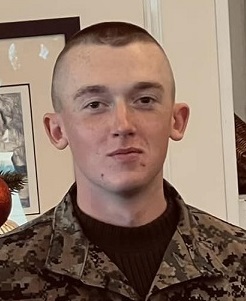 December, 2022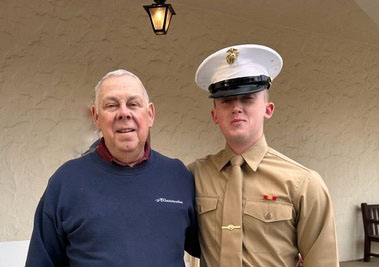 Tim is now in advanced infantry training at Camp Lejeune, North Carolina.
I am very proud of my small role in Tim's success.
January, 2023
---
---
The people who made a difference
during my Vietnam tour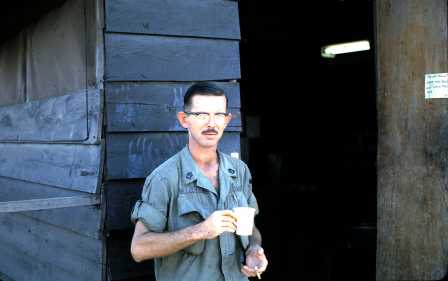 PSNCO SFC Henry J. Colman
Picture taken at Tay Ninh (1969)
This man saved my life by switching me from the field to
Battalion S-1
---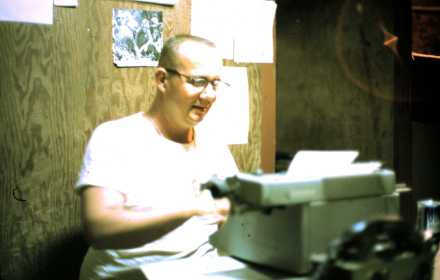 PSNCO SSG Robert C. Brushaber
Picture taken at Tay Ninh (1969)
Took over from SFC Colman
---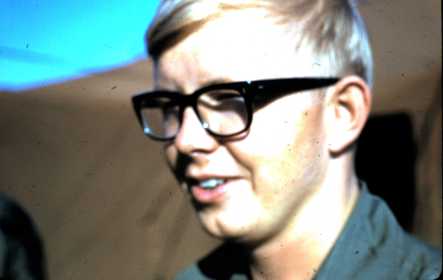 Rick Ekstrom
Picture taken at LZ Don (1969)
Rick was an important influence for me
in helping to cope with Vietnam
UPDATE 2016: See next picture
---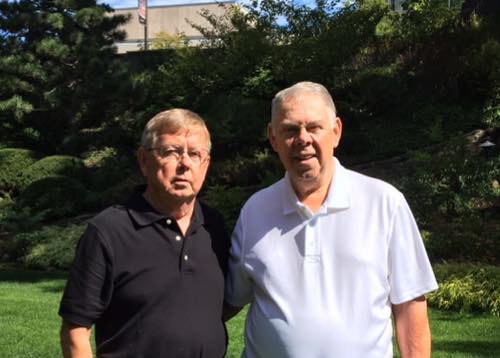 Rick Ekstrom & Mike Logsdon
Rick and his wife Jan drove from Omaha to Mentor OH
for a weekend visit. The last time we saw each other
was 47 years ago on a firebase in Vietnam
Picture taken at Cleveland Botanical Garden
October, 2016


---
Sonny Larrimore and Rick Ekstrom
Moving from Tay Ninh to Phuoc Vinh
Picture taken at Tay Ninh (1969)
---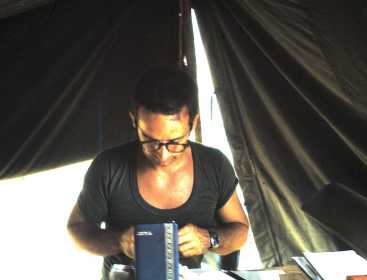 Mike Ginn
Picture taken at Firebase Don (1969)
Mike convinced me to apply for an S-1 position
---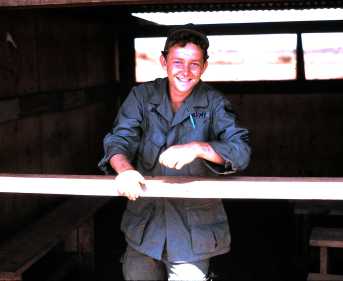 Randy Nazzarie departing for R&R
Picture taken at Bien Hoa (1969)
---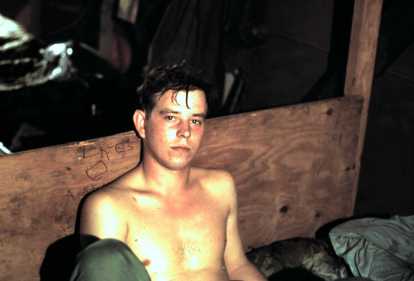 Ray Eden
Picture taken at Quan Loi (1969)
---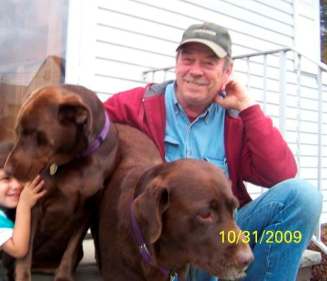 Update from Ray Eden:
Ray Eden with his Chocolate Labradors
Ray sent this picture in 2010
---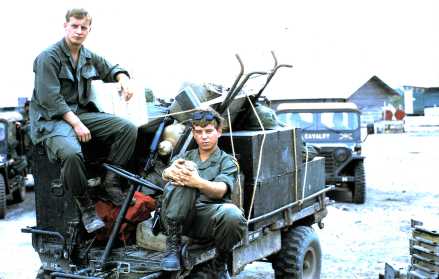 ____Sheridan and Ray Eden
Moving from Phuoc Vinh to Quan Loi
Picture taken at Phuoc Vinh (1969)
---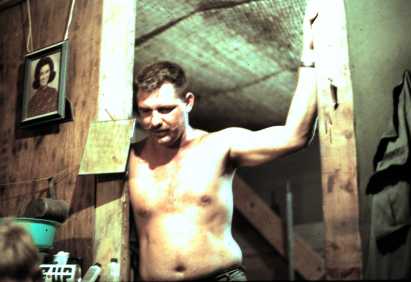 S-1 Administrative Chief Barry Hicks
Barru Hicks departed 'Nam in August, 1969
Picture taken at Tay Ninh (1969)
---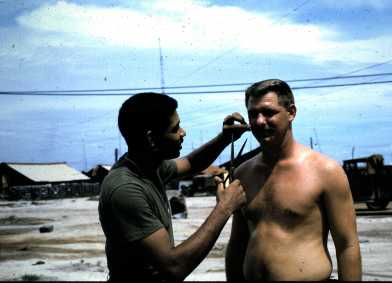 CPT Leon Hinton (The Fox) trims Barry Hicks' stash
CPT Hinton was in 'Nam August 1968 - August 1969
Picture taken at Tay Ninh (1969)

The "Fox" was highly respected by the men in the field.
The S-1 staff appreciated his professionalism as well.
(We also had his signature down pat!)
This picture has caused some discussion among those who were there. The true story is that our Sergeant Major wanted the handlebars trimmed. CPT Hinton did his best to hide Barry Hicks. An ultimatum was declared so CPT Hinton announced that an awards ceremony would take place. We all stood at attention for the trimming.
---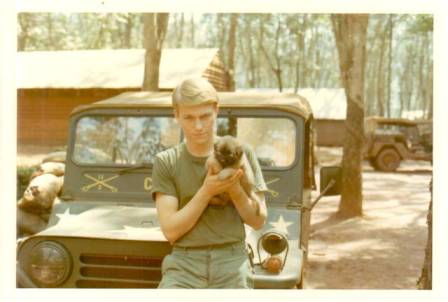 Tom Branden
From TCB (Quan Loi 1969)
---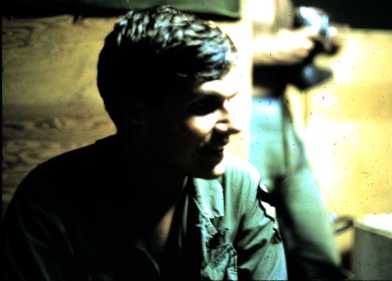 Joe Talian
Picture taken at Quan Loi (1969)
---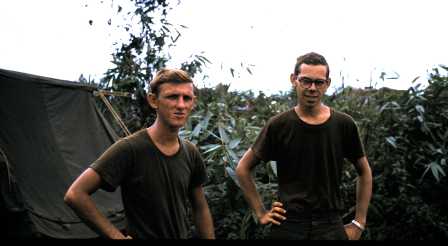 Bob Magruder (The Professor) and Mike Logsdon

Bob and I were in training together at Fork Polk LA
and we both ended up in the same battalion in Vietnam
Bob was in 'Nam January 1969 - January 1970
Picture taken at LZ Don (1969)
---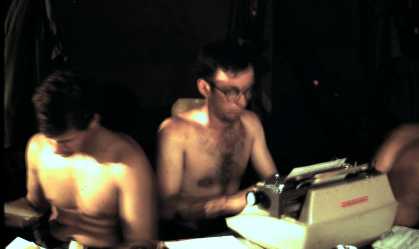 Joe Talian and Dean Ross
Picture taken at Quan Loi (1969)
---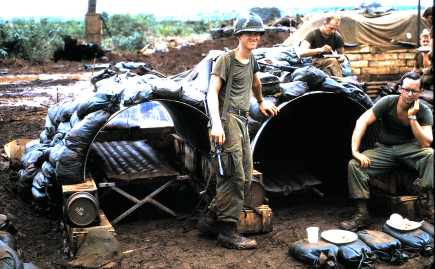 Bob Magruder and Mike Ginn
Our hooches are under construction
Picture taken at Firebase Don (1969)
---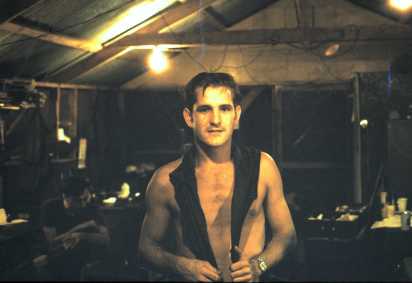 Sonny Larrimore (Macon, GA)
Picture taken at Quan Loi (1969)
---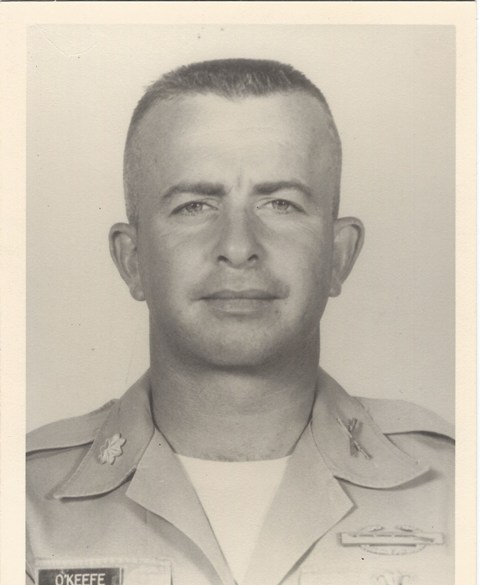 Major Robert William O'Keefe, S-3
KIA June 19, 1969
Picture provided by Deborah Horgan (daughter)
---
Robert Magruder R.I.P.
16 October 2012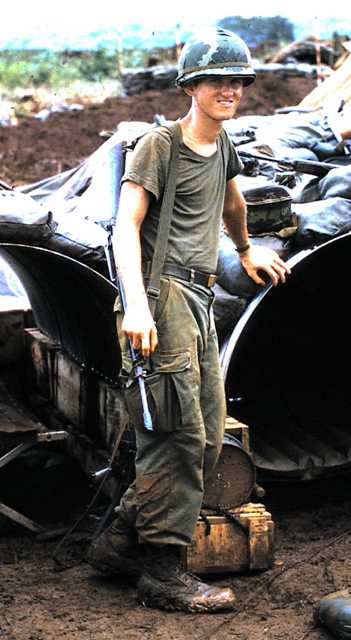 Bob Magruder
Picture taken at LZ Don, Sept, 1969
---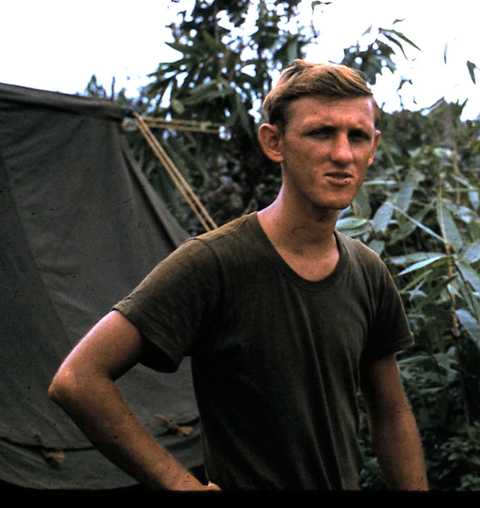 Bob Magruder
Picture taken at LZ Don, Sept, 1969
---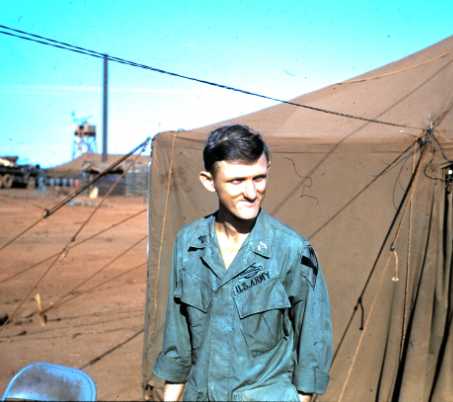 I am saddened by the news that Bob Magruder, my good friend from the service, passed away on 16 Oct 2012.

Bob was serving as the 12th Cavalry Regiment President.

---

Bob Magruder (The Professor) and Mike Logsdon

Bob and I were in training together at Fork Polk LA,
consoled each other on the trip over to 'Nam
and we both ended up in the 2nd battalion/12th cavalry
of the First Cavalry Division.
Bob was in 'Nam January 1969 - January 1970

Picture taken at LZ Don (1969)




---

I was reassigned to Bien Hoa
with 90 days remaining in Vietnam.
Here is my new group of "buds":
David Chrenka, Mike Logsdon, Brian Riordan, Joe Tedesco
Picture taken at Bien Hoa (1970)

---


David Chrenka
Picture taken at Bien Hoa (1970)

---


Vince Ito
Picture taken at Bien Hoa (1970)

---


Don Muskopf
Picture taken at Bien Hoa (1970)

---


Update from Don Muskopf:
Don Muskopf with Emmalee
Eric Muskopf (son) sent this pic Apr 2012



---

SGT John Baryski, Company D and HHC
Deceased August 7, 2012
Picture taken at Bien Hoa (1970)

---

Update from Paul Baryski:
John Baryski (left) and son Paul
Paul sent this pic August 20, 2012


---


Kent State May 4, 1970

I live within 40 miles of Kent State and would like to add a few comments about my feelings at the time. You see, I live 45 miles from the main campus and was home from Vietnam less than one month when the shootings occurred. I was back at work and chatter about the entire event was the main topic in all every conversation.

I have to give my friends and colleagues credit. They were very sensitive in discussing anything related to Vietnam. But I was the only Vietnam veteran in our workplace and I certainly had seen the best and the worst. History tells us that the period I served - 1968 to 1970 - saw a major change in the political attitude in our country. I witnessed this first-hand. In 1968 we were still supporting the war effort. Draftees didn't necessarily "want" to serve. I sometimes thought that maybe all of our training was a sort of brainwashing, because I felt that once we were there, we did our best.

I arrived in Vietnam in January, 1969. Things were very disciplined. We had a job to do. One of my responsibilities was to assign replacement troops to the companies that needed reinforcements - for all sorts of reasons - such as guys going home, injuries, and of course, Line 1 (killed in action). But I can't say that was true at the time of my retuning "to the World" in March, 1970. The standard line to troops getting short was "you are subject to drug testing at any time. If you don't pass, you'll be held in-country while you "dry out" (whatever the term was). We were tested often for drug use.

At the same time, I saw an increase in marijuana use, even among my closest friends. These were all guys who had experienced combat in the field and were getting ready to go home.

The fact that the National Guard actually had live ammunition in their weapons in a statesite "protest" was beyond belief. I could only believe that none of those guys had served in combat. In fact, they probably were in the National Guard as a way to avoid the military draft that would send them to Vietnam.

I am writing this on the anniversary of the shootings. , so I need to get my thoughts together. I'll simply say "to be continued..."

---

Chicago Reunion 2014 Leon Hinton, Mike Logsdon, Kirk Metcalf
Picture taken at 1st Cav Reunion
Chicago 2014


---

Various images and places

---


Going Home - 25th Replacement Detachment
Picture taken at Long Binh (March, 1970)

---


Bob Hope: Christmas Show 1969
Picture taken at Long Binh

---


Bob Hope: Christmas Show 1969
Picture taken at Long Binh

---


Not a place I want to remember (Malaria scare)
Picture taken in Saigon Cholon District (1969)

---


Welcome sign
Picture taken in Japan (March, 1970)



---

Air Power in Vietnam

---


Medevac
Picture taken at Tay Ninh (1969)

---


Slick
Picture taken at Phuoc Vinh (1969)

---


Slicks departing on Combat Assault
Picture taken at Tay Ninh 1 Jul 69

---


Chinook
Picture taken at Quan Loi (1969)

---


Chinook
Picture taken at Tay Ninh (1969)

---


Sikorsky cranes
Picture taken at Song Be (1969)

---


Loach
Picture taken at Quan Loi (1969)

---


Cobra Gunship
Typically, when you see a Loach, you also see a Cobra Gunship
Picture taken at Quan Loi (1969)

---


OV-10 Bronco Reconnaissance Plane
Picture taken at Tay Ninh (1969)

---


C-130 Facing us
Always an impressive view
Picture taken at Song Be (1969)

---


C-130
Picture taken at Tay Ninh (1969)

---


Inside a C-7A Caribou
Picture taken in 1969

---


C-7A Caribou
Picture taken at Phuoc Vinh (1969)

---


C-7A Caribou
Picture taken at Phuoc Vinh (1969)

---


We are loading into this C-7A
Picture taken at Phuoc Vinh (1969)

---


C-130 Stuck in the mud
Picture taken at Quan Loi (1969)

---


C-130 Stuck in the mud
Picture taken at Quan Loi (1969)

---


Moving our gear to the next base
Picture taken at Phuoc Vinh (1969)

---



Picture taken at Phuoc Vinh (1969)

---


C-7A Caribou arriving to pick us up
Picture taken at Phuoc Vinh (1969)

---



Puff the Magic Dragon
This is a WW2 Cargo plane (C-47) adapted with
M-60 Gatling guns
Picture taken at Quan Loi (1969)


---

I also tried to take a picture of a U-2 Reconnaisance Plane at Bien Hoa Air Base but I was stopped by an Air Force guy. He also insisted that U-2s were not in use in Vietnam. I have since confirmed that it was a U-2.

---

Vietnam Memorial Wall in Washington, DC
I visited the wall 35 years after getting home
Picture taken March 2003


---


Thank you for your service Here is a thoughtful YouTube video
that is especially relevant to Vietnam veterans:

A Moment of Truth

---

My friends have been sending updates on a continuing basis,
so please check back in.

To my fellow veterans, Welcome Home! 50 years later
Sincerely, John Michael Logsdon (Mike)

Mentor, Ohio (35 miles east of Cleveland)
I'll continue to update this page
Please feel free to write




---
Worthwhile links
Each month I receive hundreds of "hits" on my website, but I am always pleased with the personal messages I receive. I have learned from these emails that both active duty and recently-separated vets are looking for information. I have no affiliation with the following websites, but these can be helpful:
US Department of Veteran Affairs Crisis Hotline
Planning for Life after Discharge
Best Jobs for Returning Servicemembers
Even newer additions:
Home Buyers Guide for Veterans
---
Other related website links
---
Combat photography link: The aerial image of LZ Grant was provided by First Cav photographer Terry Moon. His website with many First Cavalry images is: 1stcavphotog.tripod.com/photogsplash.html
---
An exceptional link for 12th Cavalry veterans as well as those on active duty:
12th Cav Website
---
Make sure you visit the First Cav Association (for Alumni of the Cav as well as those on active duty): The First Cavalry Division Association
---
Take a look at the Fold3.com website if you enjoy researching military documents. A number of Vietnam-era documents are free, but you might find a subscription worth the small expense. Here is the link: Fold3.com
---
Military Orders
| Date | | Activity |
| --- | --- | --- |
| 25 Jan 68 | | Orders to report for Induction on 8 Feb 68 |
| 02 Aug 68 | | Revised Orders to report for Induction on 29 Aug 68 |
| 29 Aug 68 | | Orders to report to Ft Knox for Basic Training |
| 28 Oct 68 | | Orders to report to Ft Polk for Advanced Infantry Training |
| 11 Dec 68 | | Orders for 17 day leave |
| 14 Jan 69 | | Orders to report to Oakland CA processing center |
| 26 Jan 69 | | Orders to report to Vietnam |
| 30 Jan 69 | | Assignment to USARV replacement station, Vietnam |
| 01 Feb 69 | | Assignment to First Cavalry Division, Co D, 2nd/8th Cav |
| 01 Feb 69 | | Promotion to Private First Class |
| 06 Jun 69 | | Promotion to Specialist 4 |
| 27 Jul 69 | | Additional Duties: Unit Casualty Reporting |
| 01 Sep 69 | | Award of Combat Infantry Badge (CIB) |
| 13 Sep 69 | | Award of the Air Medal |
| 16 Oct 69 | | Promotion to Sergeant |
| 29 Oct 69 | | Award of ARCOM for meritorious service |
| 13 Nov 69 | | Award of Bronze Star for meritorious service |
| 21 Nov 69 | | Award of ARCOM with first oak leaf cluster |
| 21 Nov 69 | | DEROS extension from 26 Jan 70 to 1 Apr70 |
| 02 Jan 70 | | Award of ARCOM with "V" device |
| 28 Jan 70 | | Award of ARCOM with 2nd oak leaf cluster |
| 29 Jan 70 | | Orders for DEROS date of 25 Jan 70 (12 months overseas) |
| 09 Feb 70 | | Revised DEROS date to 1 Apr 70 (14 months overseas) |
| 24 Feb 70 | | Award of Good Conduct Medal |
| 02 Apr 70 | | Transferred to US Army Reserves |
| 15 Aug 73 | | Release from Annual Training Requirement |
| 24 Jul 74 | | Discharge from US Army Reserves |
| 01 Aug 74 | | Honorable Discharge |
Vietnam Service Medals
There were seventeen designated campaigns during the Vietnam War. Those with whom I served are entitled to wear one bronze star on the Vietnam Service Medal for each campaign they participated in. We participated in four campaigns during our time in Vietnam:


| Campaign | | Dates |
| --- | --- | --- |
| • Counteroffensive, Phase VI: | | November 2, 1968 to February 22, 1969 |
| • Tet 69/Counteroffensive: | | February 23, 1969 to June 8, 1969 |
| • Winter-Spring 1970: | | November 1, 1969 to April 30, 1970 |
---
From Bob Magruder (B 2/12):

In January of 1969 the 2/12th Cavalry worked out of LZ Ray. On Jan 18 they moved to LZ Grant to about mid-June. On June 14 they moved to Phuoc Vinh for Palace Guard. On July 7 they moved back to Tay Ninh to LZ Dolly for about 10 days, then they moved to the Doc Phong area and built LZ O'Keefe. Around August 4th they moved to Duc Phong and built LZ Caldwell. On August 17 they moved to Song Be and built LZ Alvarado. On September 5th they began construction of LZ Don. On October 6th they moved to Firebase Judy. In late November we moved to Firebase Buttons. Also some of our companies worked out of LZ White for a few weeks in late May to early June. It was about 8 clicks northeast of Grant.
---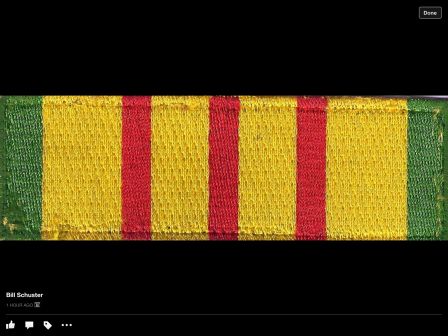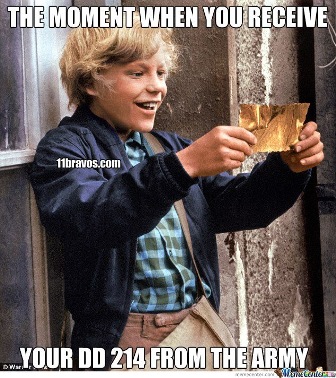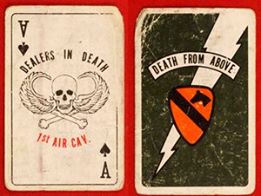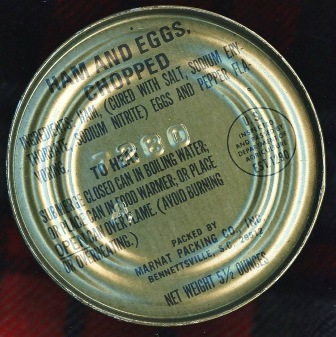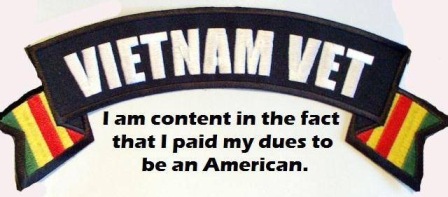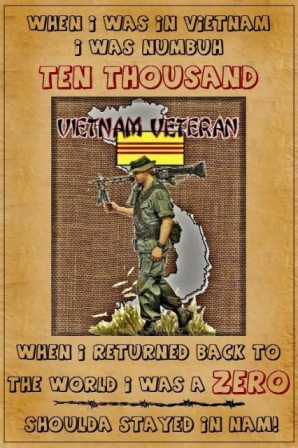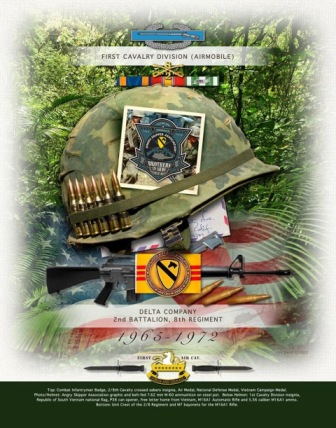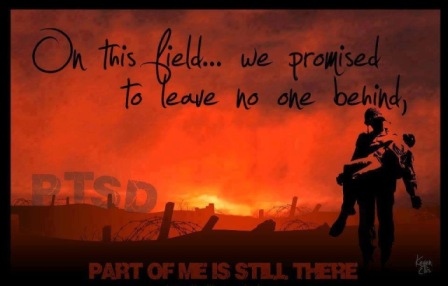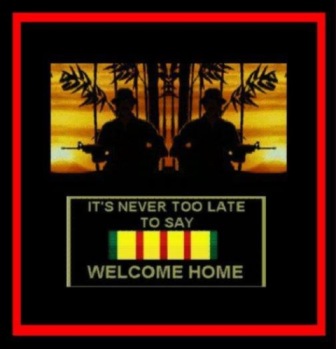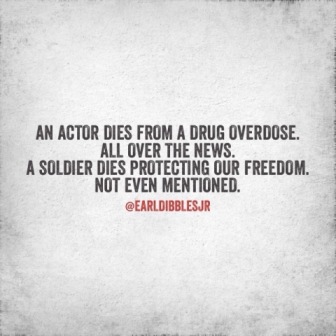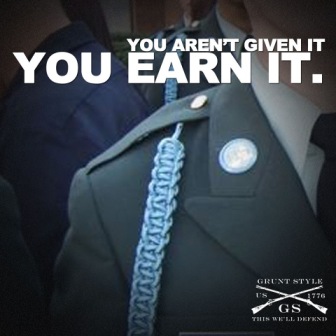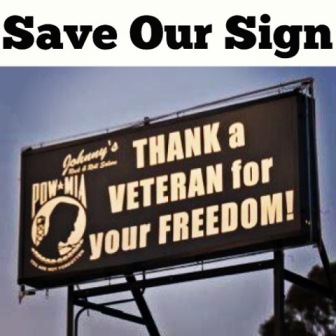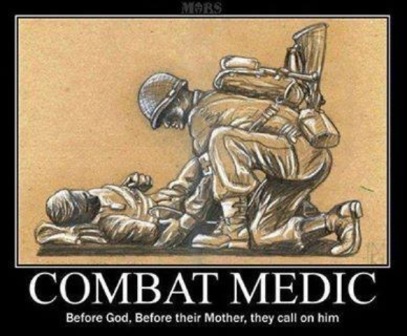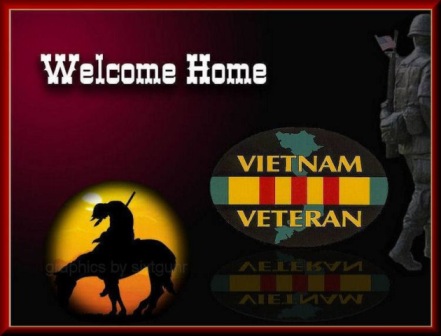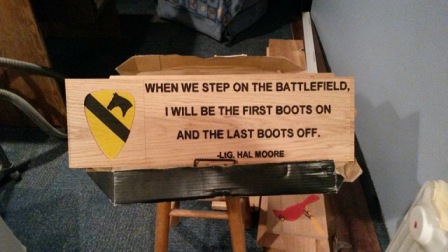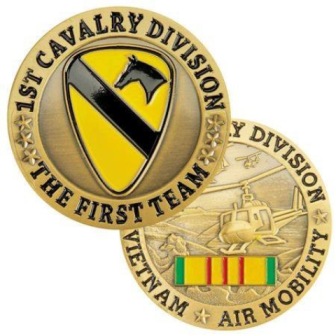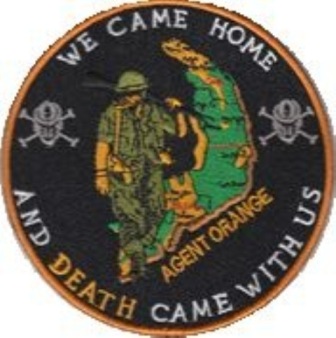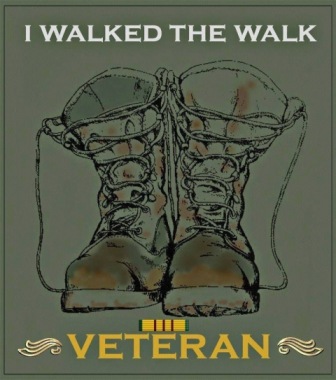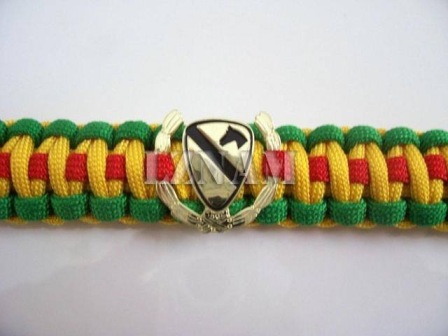 ---